According to a New York Times article, "On any given week, up to half of the books on any nonfiction best-seller list are written by someone other than the name on the book."

[Note: This is also happening in fiction. Many best-selling authors now use co-authors and ghostwriters to produce work under their name.]
From Dennis Lowery, President of Adducent
Q: How much is a ghostwriter going to cost?
That depends on many factors, including the length of the desired book (or work), how much (if any) material exists, how much research will be required, number and type of interviews that need to take place, how soon the project needs to be finished, etc. Keep in mind professional ghostwriters don't work on a contingency or get paid from sales of the book after it is published. Fees can vary greatly among ghostwriters. We're not the cheapest nor the most expensive. Request a quote.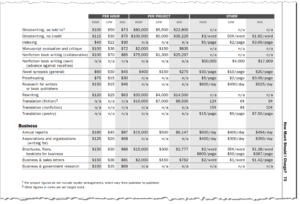 Q: What can I expect for those fees? The client gets their manuscript and is credited as the author. The ghostwriter can remain completely anonymous or receive attribution such as "As told to" or "With".
Q: Will my book sell well and become commercially successful?
Unless you are a celebrity, or a successful executive or professional person who has a high profile and at least a regional or national audience, no one can answer that for you (not even a publisher). There are so many things that factor into the success of a book that goes beyond the writing and any publisher today will tell you much of your success depends on not just your story—though it's an important part—but on you and how much effort you put into what happens after the manuscript is written.
Q: If there's no guarantee my book will sell well if it's published, why write it?
There is so much value to writing and publishing a book beyond that understandable desire for it to become a bestseller. But you can't get into it thinking your book will be discovered and it will make you famous or rich. Though that can happen (it does each year for new authors) that compelling vision is not a practical expectation. Especially if your book is a memoir and you're not a famous person with an audience of thousands waiting for your book. The real value is the legacy of leaving your life story in a tangible hold-in-your-hands book form. Something you can leave behind and know your life story is preserved. There also can be a therapeutic—cathartic—benefit (something that many clients have told me they experienced). And there can be a financial benefit—this works especially for entrepreneurs who write memoirs or a business, career-related book—where your book becomes a significant calling card that can lead new customers and clients to you and open doors for other opportunities. It validates and gives credence to your experience and capabilities that can lead to speaking engagements and other revenue streams for your business. And there's one reason—a universal truth that often makes dreams come true—you should consider: "You never know until you try."
Q: How long will it take? It depends on the project. Small books can take 3 to 5 months. A mid-size to a large or complex book takes 6 to 12+ months to develop and ghostwrite. Very large or complex books requiring a lot of research, development or other 'hand-work' (beyond just writing) do take longer. And what's discovered if working through complicated, possibly disjointed source material (especially if gathered and developed over a period of time by the client), can also result in a project taking more time. So, the scope of work dictates how long it will take and each project delivery has to be evaluated based on workload at the time the project is quoted.
Q: Does the ghostwriter get any credit? As mentioned above, depending on the arrangement, attribution or even co-author credit could be negotiated. If so, the fee structure usually changes or decreases. Or the ghostwriter can remain completely anonymous.
Q: How much will I need to be involved? In most cases, you'll only need to supply access to you and your information. A professional ghostwriter will determine a writing and development approach and plan for each project. A series of phone interviews, call-in dictation sessions to gather information and occasional feedback and approvals are typically all that is required.
Q: What will I need to supply to the ghostwriter? Very simply: time, information and feedback. A series of interviews may be all that is needed. A professional ghostwriter will determine a writing and development approach and plan for each project.
Q: What should I look for in a ghostwriter? The best ghostwriters are professional, proven, dependable, discreet, collaborative, supportive and deadline-oriented. Most importantly, the ideal writer understands your project and will work well with you! Obviously, chemistry and a good 'fit' are important.
Q: Will the ghostwriter also be my editor?IMPORTANT NOTE: A ghostwriter will self-edit their work after drafting a manuscript, but professional writers, ghostwriters, and authors know with the writing or ghostwriting of any book, a third-party editor is expected and needed as part of the process to prepare for publication or publisher consideration. Clients must understand the process and expect to engage a third-party editor once the manuscript has completed the drafting and revision process. When publishers accept a manuscript even if it has been independently edited, it will usually be assigned an editor/editing team and can undergo multiple rounds of editing. For fiction, typically one or two editors focus on the plot/story, and one or two to spot and correct spelling, punctuation, POV, tense, and sentence structure. For nonfiction, they often use two editors as well and multiple editorial rounds focused on those same corrections, and fact-checking of the draft manuscript. Editing is an iterative multi-round process that involves more than the writer (or ghostwriter) and author (client).
Q: Will the ghostwriter help me find a publisher? Ghostwriters aren't responsible for getting the work published, nor do they typically provide services offered by agents or publishers. But we might be able to help.
Q: How does the ghostwriting process typically start? Usually, the client and the ghostwriter have an initial meeting by phone to review the scope of the project. The ghostwriter then presents an overview or proposal to define and detail how things will work, including delivery and pricing. If all parties agree to proceed, the ghostwriter will provide a contract. A professional ghostwriter will determine a writing and development approach and plan for each project.
Q: I have a very hectic and demanding professional and/or personal schedule, how would that impact work on my project? Speaking for us, we've worked with many busy professionals and if needed, we create flexible timelines for them to accommodate the many demands on their time yet are designed so that work on their project progresses at a steady pace. We also provide our client's tools such as our unique, Client Dictation Services, that they can utilize at any time from anywhere. This is a tremendous resource to help with their project.
Q: I'm interested in your help, what is the first step? If you've also reviewed the information on my ghostwriting page, you should schedule a conversation with me. But first, fill out this form to tell us about your project and to see our project starting rates.