---

I am Dennis Lowery, founder, and president of Adducent (established in 2000). I'm a writer, ghostwriter, editor, publisher, and veteran of the United States Navy (a former Operations Specialist). My company has worked with clients from New Haven, Connecticut to Miami, Florida… Chicago, Illinois to Houston, Texas… from Seattle, Washington to San Diego, California… and cities and states in between. And internationally with clients in Canada, London, Paris, Oman, India, Vietnam, Hong Kong, South Korea, Japan, and New Zealand.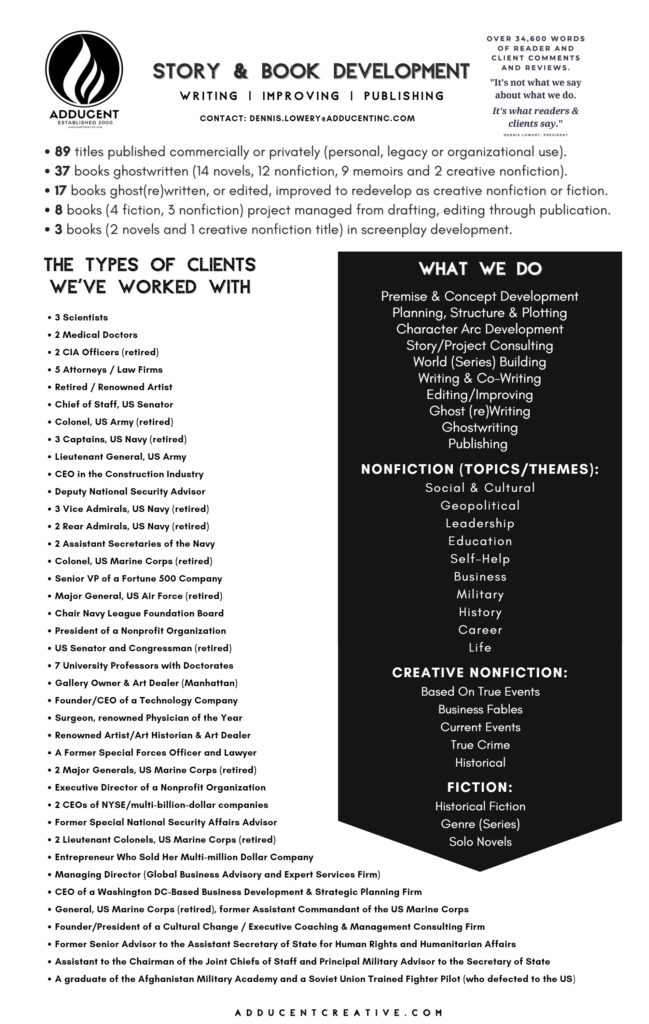 I've been an investor & entrepreneur since 1993. Full-time since 1996, when I resigned from my management position in an aerospace manufacturing company that had grown from $3 million in revenue to $700 million when I left (they're at $3B now). Post-departure, divesting other businesses owned with partners, I founded Adducent in 2000 as a management and consulting firm. For over eight years, I worked with M&A attorneys, investment bankers, and business owners on management, planning, and growth through acquisition. That led to business writing, which led to a book, which led to my contacts asking for help to finish and publish their books. I did, and others needing similar assistance asked if I could write or ghostwrite their book and publish it. This unplanned sideline grew to supplant my consulting work (and became more fun). In 2009, it became my company's full-time focus.
Nonfiction Projects (including memoirs) that covered topics such as:
Social & Cultural
Geopolitics
Leadership
Education
Self-Help
Business
Military
History
Career
Life
Eras on which I've written nonfiction including memoirs that span them:
Contemporary
Global War on Terror
Cold War
Vietnam War
Civil Rights
World War II
Fiction Projects
Historical | Setting and events in the past
Suspense | Action/Adventure | Thriller | Noir
Horror | Fantasy | Supernatural | Paranormal
Science fiction set in the near and distant future and stories–timelines–involving alternate history.