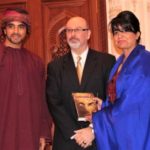 Whether meeting and talking with royalty, working with high-ranking officers in the military and government officials or Fortune 500 CEOs… or working with any man or woman who has a good story to tell and needs help, he keeps his sensibility and professionalism. To put a slight twist to Kipling's words: He can talk with crowds and keep his virtue, and walk with kings and ne'er lose the common touch.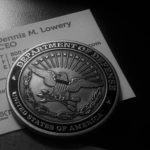 Since 2008, Dennis Lowery (whose business career extends back to 1983, more on that below from Dennis) has been a full-time writer and ghostwriter of several nonfiction books and novels for clients. He is also the author, co-author, and developer of his own books and dozens of shorter works. Based in Florida, he works internationally, has traveled to dozens of countries (as of this writing) and visited several World Heritage Sites of extraordinary cultural, historical or physical significance. He has given talks on writing, publishing and the importance and impact of stories on individuals and cultures across the United States and internationally in Toronto, London, and Muscat, Oman. A Navy veteran and former Operations Specialist, he is a member of the Military Writers Society of America.
Decades of experience gives him a keen insight that resonates within his many stories portraying (in nonfiction and fiction) strong, capable, characters; their challenges and how they face them. His original fiction stories span the thriller, adventure, fantasy, science fiction and horror genres for the Young Adult, New Adult, and Adult markets.
"Dennis Lowery is a consummate professional who has a unique talent for being able to help you help yourself in developing your story, whether fiction or nonfiction. Blessed with great patience, he is a good listener who gently leads you as your project progresses, while at the same time making sage and valued comments for consideration. Responsive and diligent, he is a master at bringing out that elusive idea or thought, presenting it to you in a thoughtful yet persuasive manner. He introduced me to creative nonfiction and effortlessly guided me along a path that led to my first book. If you're considering writing a book, the 'go-to man' is Dennis; he'll aid and assist you throughout the effort and will make the journey enjoyable." —General Richard 'Butch' Neal, USMC (Ret.)

 
From Dennis:
I'm an author, writer, and developer of creative nonfiction and original fiction stories, articles, and essays on travel and observations on life. And I've helped clients turn their knowledge, life experiences, and imaginative ideas into compelling and entertaining stories and books (memoirs, nonfiction & fiction). I've worked with clients across the United States and internationally. If you find someone who shows the capability to help you, that you have a sense of trust with… then I've learned you'll be better served by working with them than compromising because of proximity and price. And professionalism weighs in. Professionals respect and value other professionals. My clients are intelligent and successful people. Some I've helped and worked with have appeared on PBS NewsHour, 60 Minutes, ABC, CBS, NBC, Fox News, and MSNBC. There are a lot of writers out there but when you factor in overall experience, knowledge, capability, and professionalism (responsiveness, work ethic and reliability) … the field of choices narrows dramatically. That is where a discerning person finds the right professional for their book project. Many have found me (and my company) to be their preferred solution for writing assistance, story and book development, and publishing assistance services. While writing and publishing have become my primary focus, my business career extends back to late 1982. After the military, I worked at different levels of responsibility in business management. Since January 2, 1996, I've been self-employed full-time in my own companies.
About my company, Adducent: Divesting other businesses owned with partners, I founded Adducent July 4, 2000, as an operations management and consulting firm and over an eight-year period worked with M&A attorneys, investment bankers, business owners and entrepreneurs on business management, business planning and growth through acquisition. 354 clients over that time, some just a single project, others multiple times. That led to business writing, which led to a business book, which then led to some of my professional contacts asking if I could help them finish and publish their books. I did and then had others ask for help publishing and still others that asked if I could help them write or ghostwrite their book for them. This unplanned for sideline business grew to supplant my consulting work (and for me, became more fun). In 2009 it became my company's full-time focus. Since then we've worked with 50+ clients on dozens of books (nonfiction and fiction), which has resulted (as of this writing) in 65 titles published, and hundreds of shorter pieces and content developed for social media, audience engagement, and branding. Along with my own writing projects and books, I began working on select ghostwriting projects and have completed and published many books with clients since then. What I have done and can do for clients has been received with tremendous interest from:
Artists
Scientists
Educators
Entertainers
Entrepreneurs
Military veterans
World-class Athletes
Physicians / Surgeons
Business Executives & Professionals
Foreign Policy & Defense Industry Professionals
Government / Intelligence & Security Agency Professionals
Adducent has provided writing, creative and publishing assistance services to dozens of diverse clients: generals and admirals in the US military, senators, Fortune 500 CEOs, chairmen of multi-billion dollar companies on the New York Stock Exchange, doctors, artists and lawyers, university professors, and CIA agents. As well as people from all walks of life who have led extraordinary lives and overcome significant challenges. You can see a representative sample of our client types here. You can also see reader and client comments about my writing, books, stories and publishing assistance.
Check out my professional profile and connect with me on LinkedIn.