NONFICTION | CREATIVE NONFICTION | MEMOIR | FICTION
---
I am Dennis Lowery, founder, and president of Adducent (established in 2000). I'm a writer, ghostwriter, editor, publisher, and veteran of the United States Navy (a former Operations Specialist). My company has worked with clients from New Haven, Connecticut to Miami, Florida… Chicago, Illinois to Houston, Texas… from Seattle, Washington to San Diego, California… and cities and states in between. And internationally with clients in Canada, London, Paris, Oman, India, Vietnam, Hong Kong, South Korea, Japan, and New Zealand.
I recommend reading my reader and client comments page to learn more about our work with clients and my writing capabilities.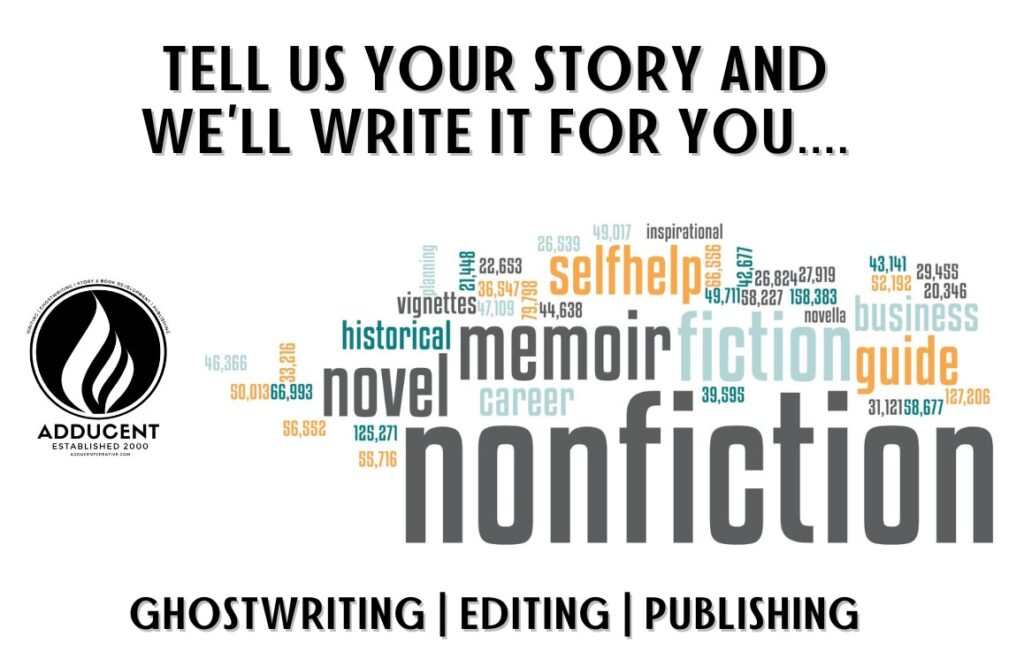 Or text message 904-323-3072 and we'll reply.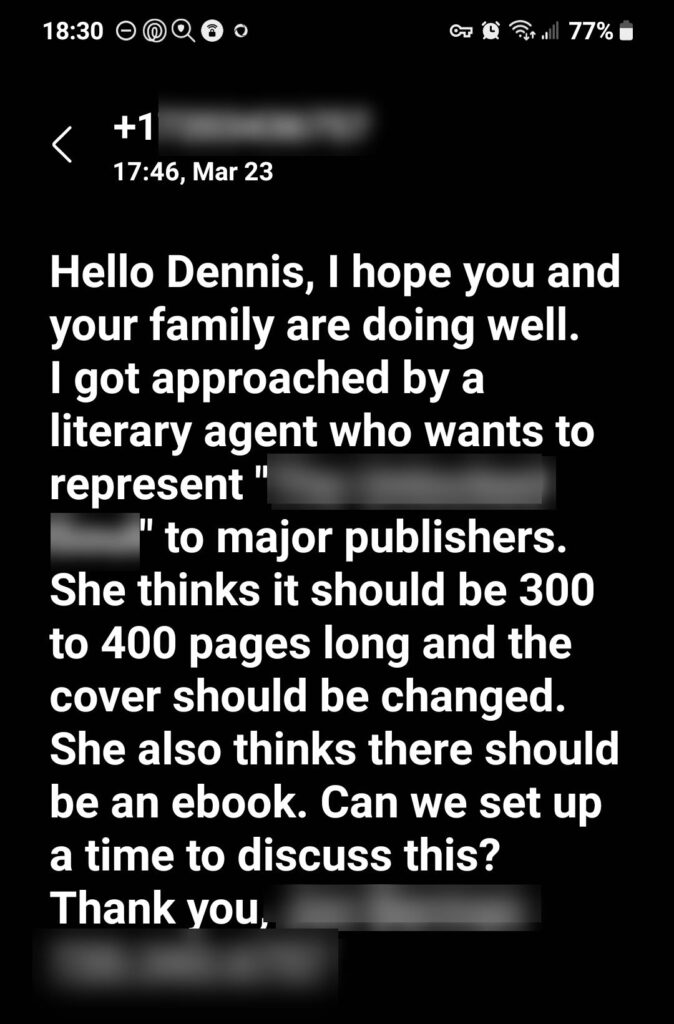 I am very good at what I do… but don't just take my word. See 34,000 words worth of reader and client comments here. There are many writers out there, but the choices narrow dramatically when you factor in overall experience, knowledge, affordable capability, and professionalism (responsiveness, work ethic, and reliability). And discerning people find the right professional for their book project. Many have chosen me (and my company) as their preferred affordable solution for writing help, ghostwriting, editing, story and book development, and publishing services. We've also taken on re-writing projects for individuals and other publishers to turn rough manuscripts into finished, polished, compelling stories and memoirs.
I'm a veteran of the United States Navy and a member of the Military Writers Society of America, the Historical Novel Society, The Authors Guild, and the National Association of Independent Writers & Editors.
I've worked with four clients whose native language is other than English. This poses special challenges to writers and ghostwriters, but again, breadth of experience helps: I turned their stories into readable and compelling books.
I've given talks across the United States and internationally in Toronto, London, and Muscat, Oman, on writing, publishing, and the importance and impact of stories on individuals and cultures.
As a professional writer for hire, ghostwriter, co-writer, and editor, I've worked on many types of nonfiction and fiction projects (large and small).
My ghostwriting clients own all rights to the work I create for them and can present to an agent or publisher or use it for self-publication.
The cost of hiring a professional writer, ghostwriter, editor, or book writing service varies… my fees are reasonable (as defined by the Writer's Market Guide).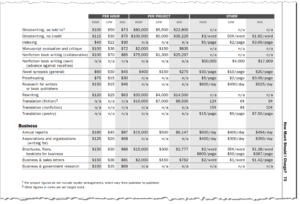 What you want to do to make your book a reality is not an unusual approach. According to a New York Times article: "On any given week, up to half of the books or more on any nonfiction bestseller list are written, or the author was assisted, by someone other than the prominent name shown on the book (the author)." This is also increasingly so for many novels and works of fiction (I have ghostwritten several for clients). The reason is simple. Not everyone has the time to sit down and write a book. And not every person with great experience, knowledge, information, and stories to share is experienced in taking all the pieces and creating a cohesive and congruent narrative. That's where a ghostwriter or co-writer, such as me, comes in.
Here's what we've done (and what we can do) for clients: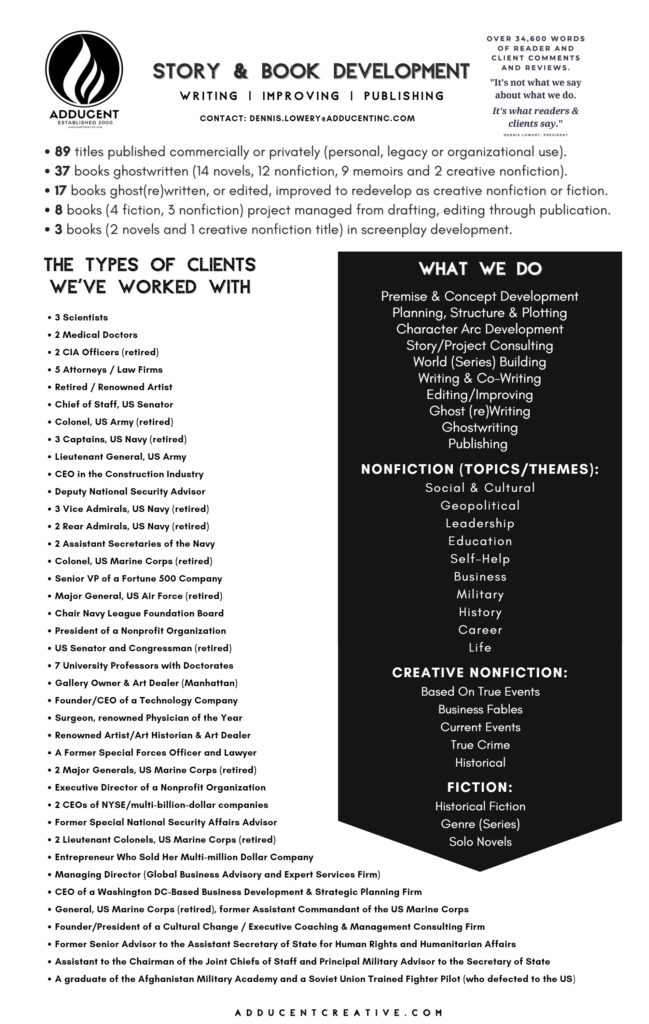 WHAT WE DO
Premise & Concept Development (or execution of the client's idea or premise)
Planning, Structure & Plotting
Character Arc Development
Story/Project Consulting
World (Series) Building
Writing & Co-Writing
Improving | Editing
Ghost(Re)Writing
Ghostwriting
Publishing
Nonfiction (topics/themes):
Social & Cultural
Geopolitical
Leadership
Education
Self-Help
Business
Military
History
Career
Life
Creative Nonfiction:
Based On True Events
Business Fables
Current Events
True Crime
Historical
Fiction:
Historical Fiction
Genre (Series)
Solo Novels
For those who choose NOT to hire a writer but need advice and guidance on writing, story development, and publishing or self-publishing, we offer consulting. We have a lot of experience you can benefit from affordably.