CONSULTING
If you don't want to hire a writer but need professional advice, consulting and guidance on writing, editing, story development, and publishing or self-publishing, we offer fee-based consulting with Dennis Lowery. We have a lot of experience you can benefit from affordably.
We can also edit and improve what you've written.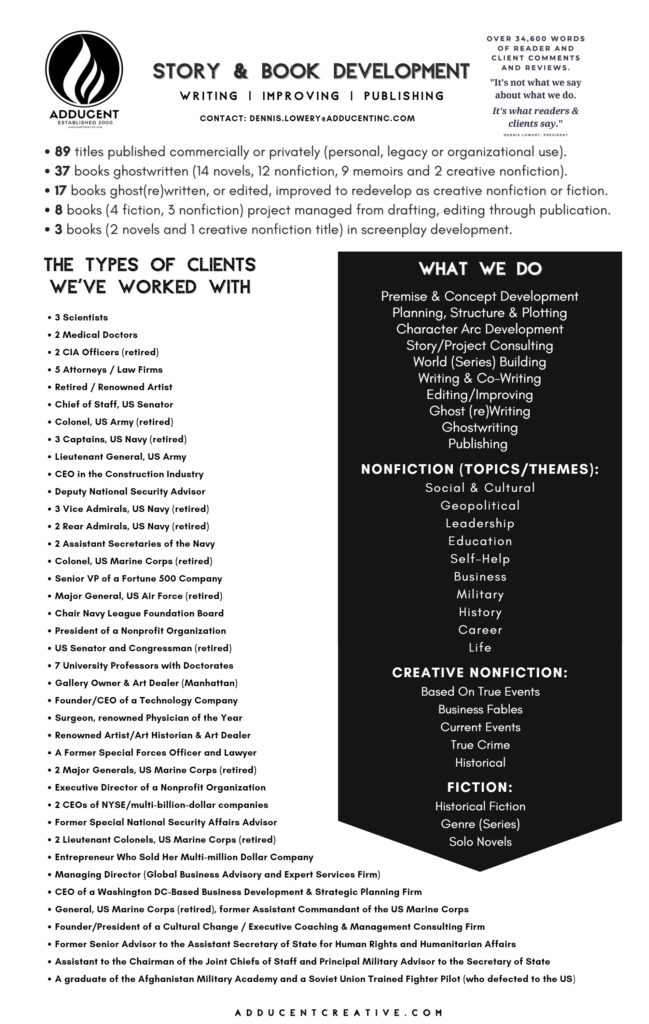 Our consulting services can help you plan, plot, develop, write, and edit:
NONFICTION
Creative Nonfiction
Business and Career Related
Self-Improvement / Inspirational
True Story: Crime / Life / Adventure
Memoirs / Biographies / Autobiographies
FICTION
Suspense | Action/Adventure | Thriller | Noir
Horror | Fantasy | Supernatural | Paranormal
Contemporary (post-World War II to present day)
Historical (millennia ago up to World War II Era)
Science Fiction (past, present, future, or alternate-history)
In your request, please give a brief description of your project and if you want to schedule a 30-minute call or longer. We'll reply with a quote and the next steps. As an alternative to using our contact form, you can send an email to Admin@AdducentInc.com.
Need longer-term support for your story or book development project? Contact us about lower rates for long-term consulting and project management.