Table of Contents: following are the current eShorts — short fiction and nonfiction — available to read free: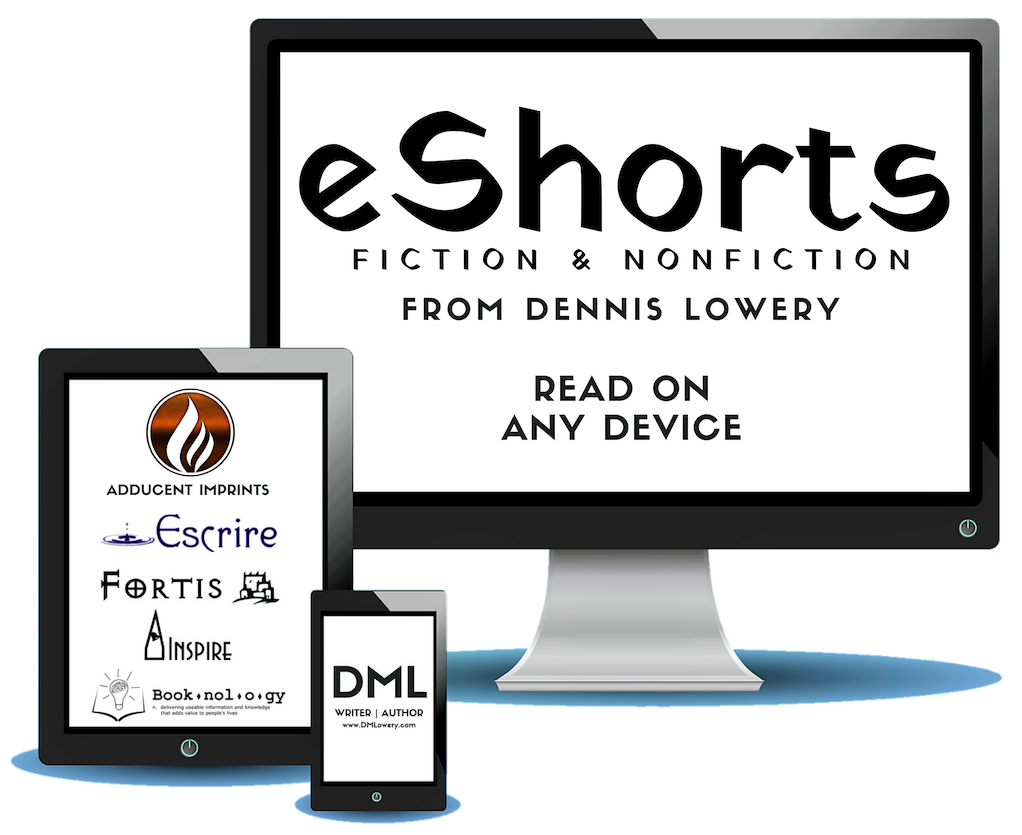 ---
Story snapshots follow below. Check them out.



I've had a note in my idea book for some time to write about revenge and retribution at the height of a hurricane. It seemed a perfect way to cover up a murder. One morning, while enjoying my coffee and watching Hurricane Irma updates (I live in Florida and this year is my 40th hurricane season), as the caffeine kicked in, I toyed with the thread of some lines for that story. As I idly scanned through my images folder, I came across one that gave me not only the title (with a change to the last line) but also the transformation of the story's protagonist. My premise that you can push a person too far… and then the 6th commandment (or other laws) may not keep them from doing what they must to survive. And what better time to do something so drastic—killing someone—than when you stand a good chance of getting away with it. Here's the flashfiction piece that resulted.

Evening turned to night, and we found ourselves closer to each other. Two objects governed by a subtle sexual gravity pulled into orbit. A certainty just as sure as the autumn moon, seen through the windows, circled our world. Barcelona on one–unforgettable–night.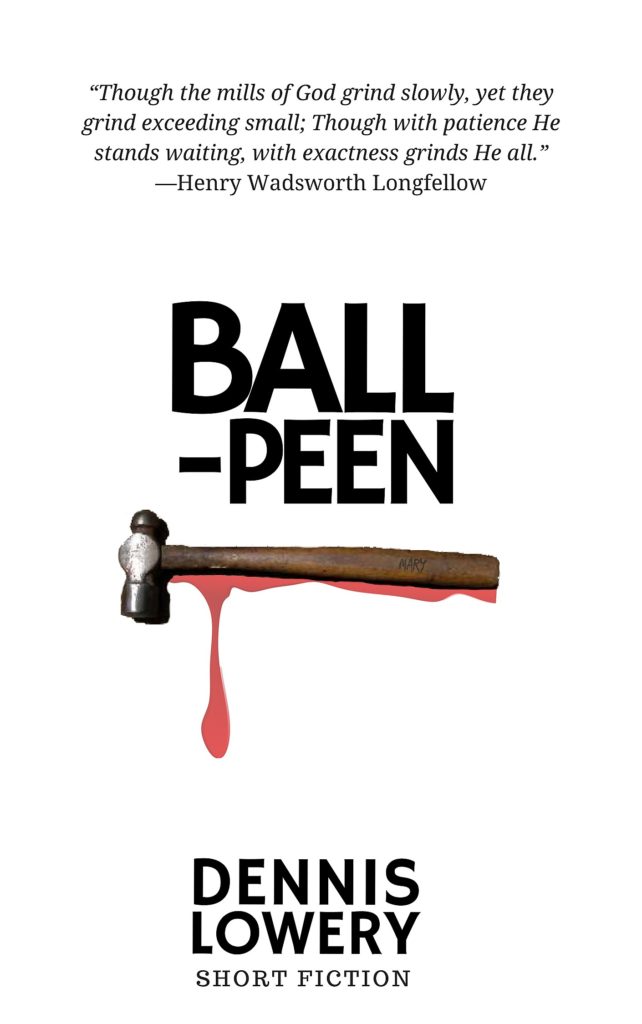 Lisa had spent years in the dark, wounded and withdrawn, until one day a new man comes into her life. Cruel things happen to real people every day, and Lisa is not going to let the past repeat itself. She awakes.
The story is a tie-in with Dennis Lowery's The Crossing. If you're interested in a nonfiction/article that discusses the theme and topic underpinning both BALL-PEEN and The Crossing, check out: A Recognized Madness.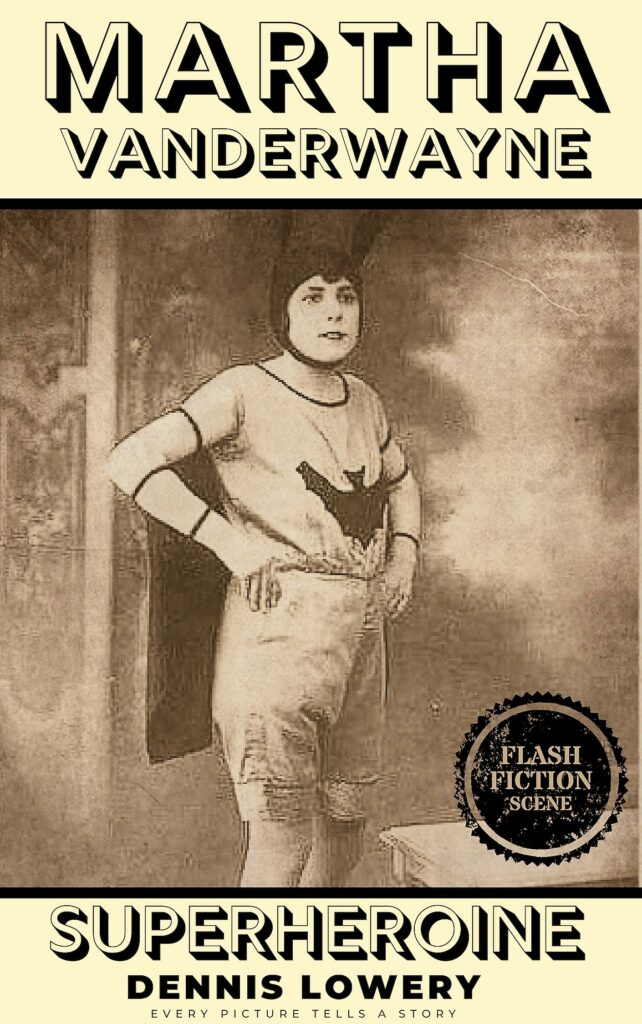 Two people haunted by their past. Alone and caught within circumstances. But then… this holiday season something happens. Believe in miracles… believe in love, it's the best gift to give and receive.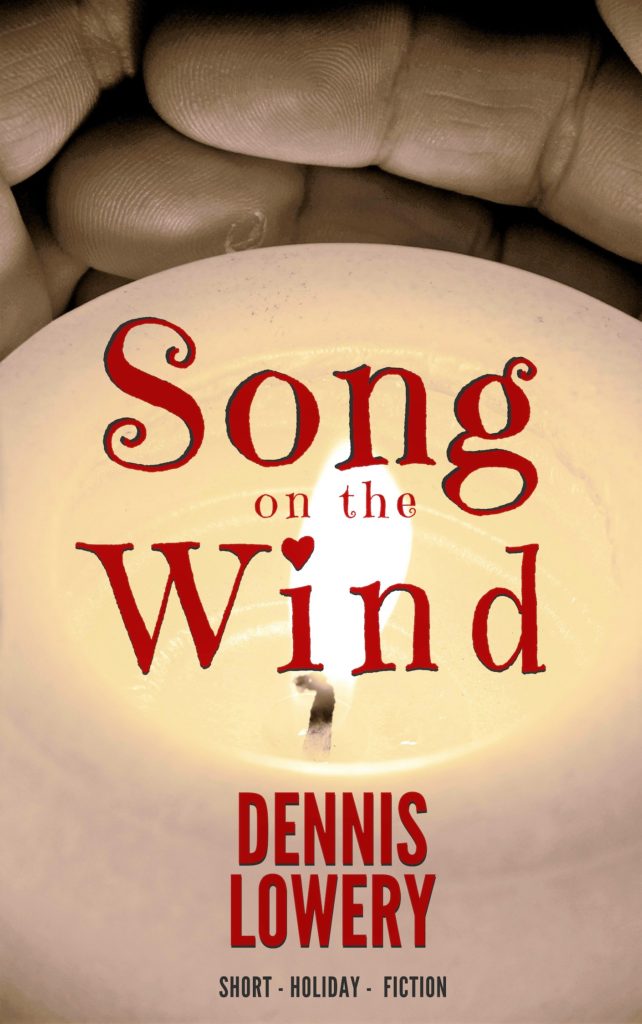 A moment in time as told by a grandmother to her granddaughter that highlights the heightened feelings of first love and her discovery of the true meaning of Christmas.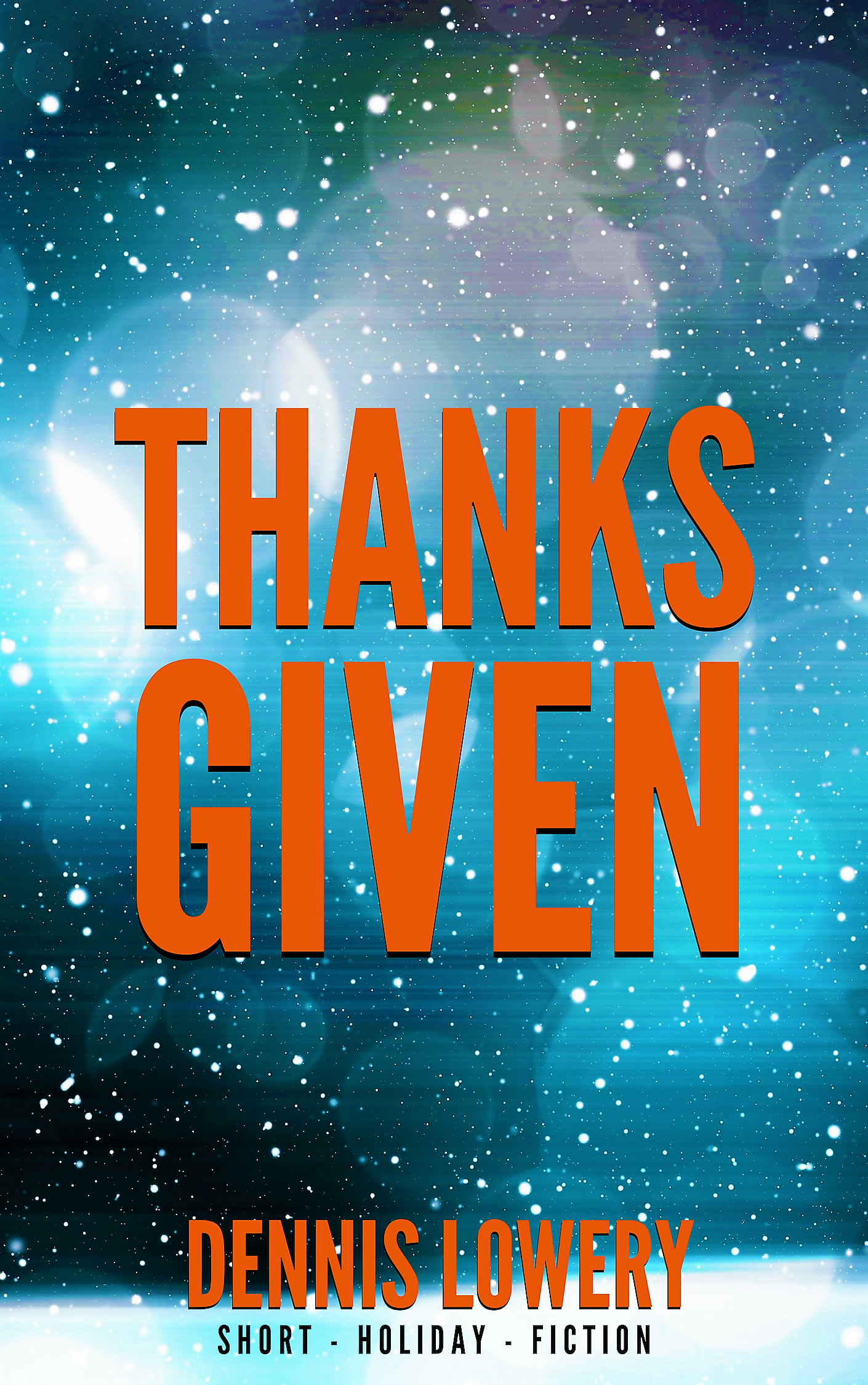 Thanks Given is a heartwarming story about how sometimes life does not get back on track until we appreciate the things we have that others do not. We should turn from our regrets and give thanks for the good things in our life.
From the Author (how this story originated):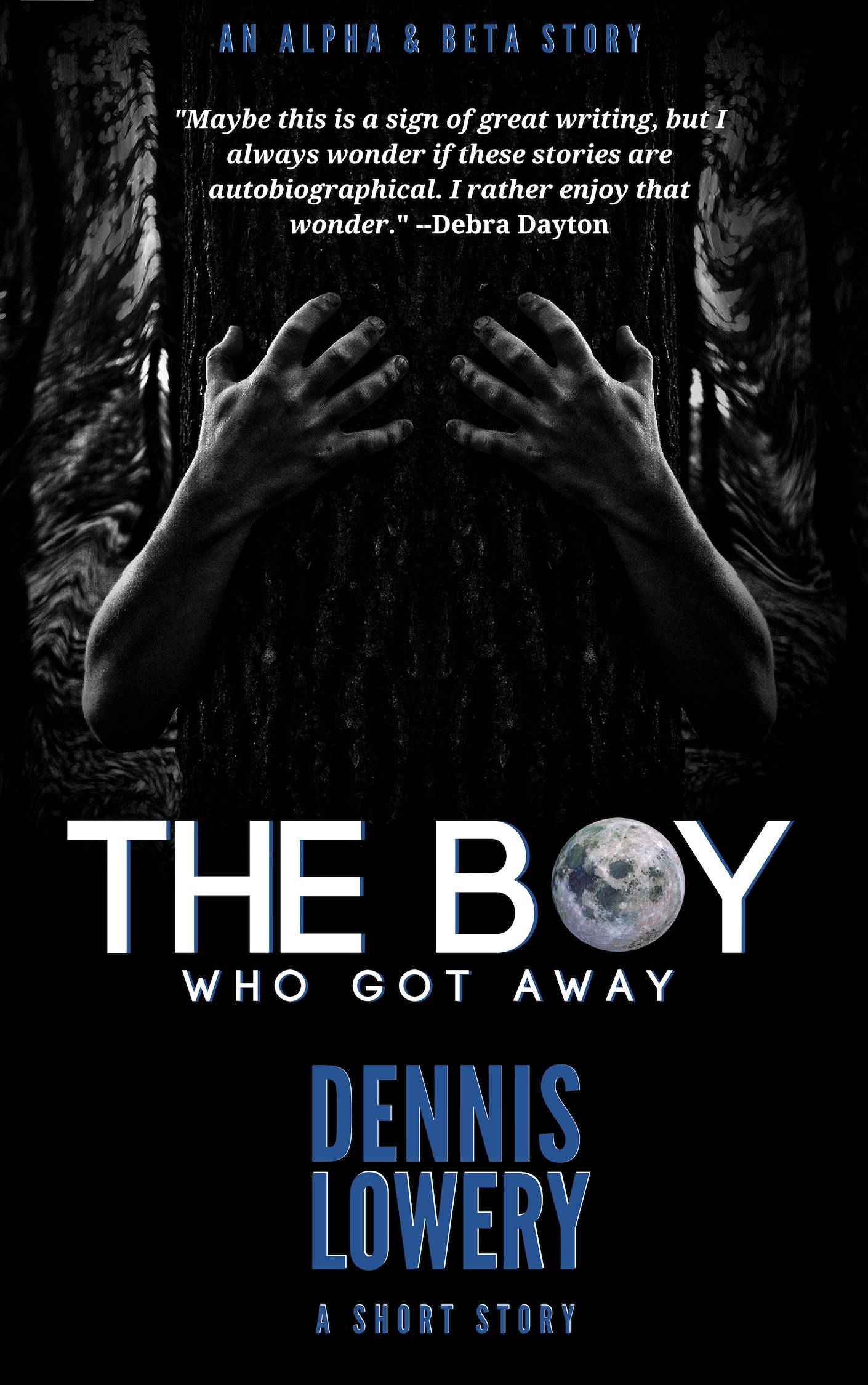 "Dad, do you believe in ghosts and demons?" asked one of my twins.

I turned so I could see them both. "You know about what happened to me in Italy?" [Which was the basis for another story.]

"What about when you were a kid?"

"I can tell you about a boy and what happened to him. Want to hear it?" They nodded, so I told them.

–Dennis Lowery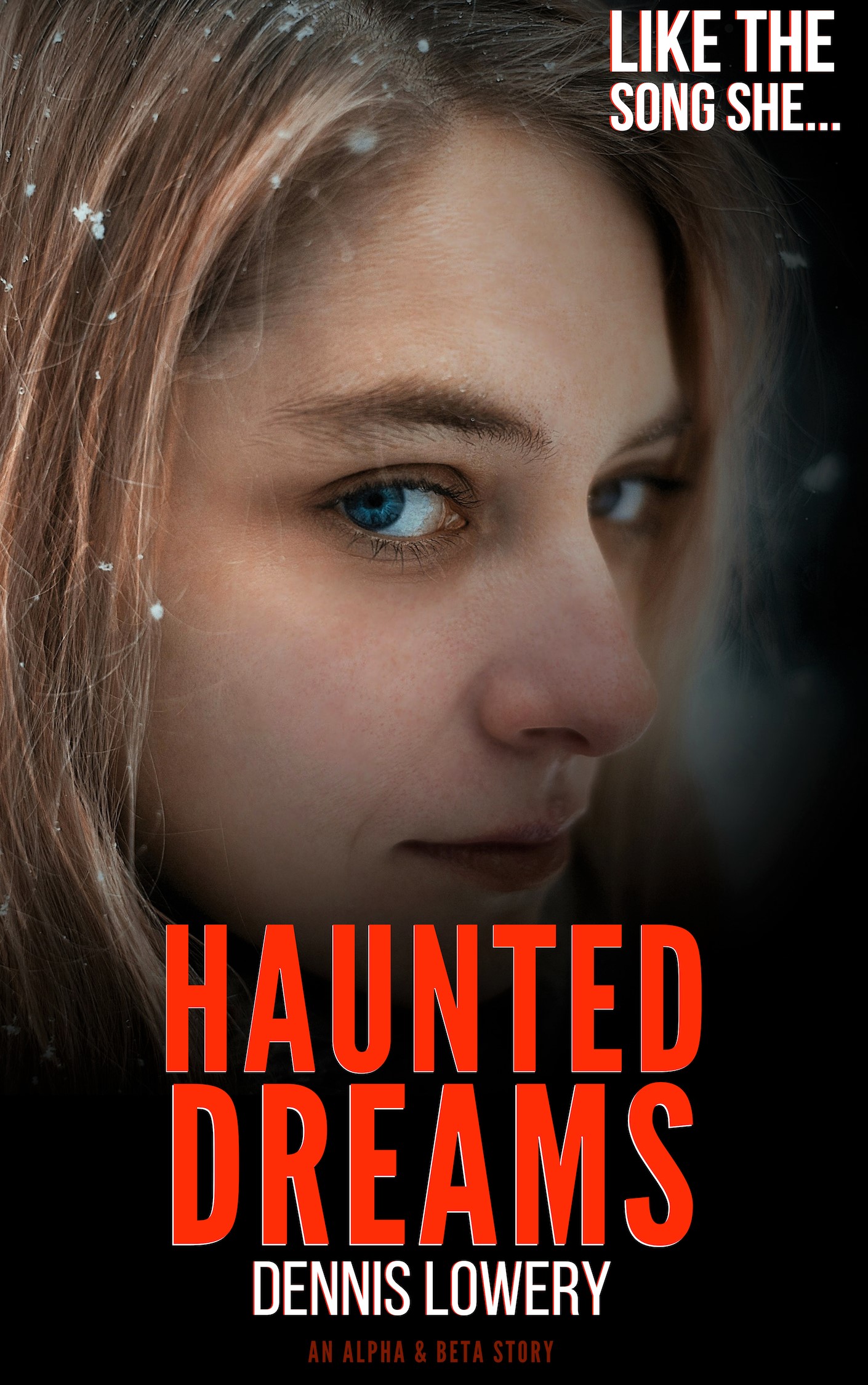 A 1,151-word hybrid story (nonfiction with a fiction piece embedded). A father's story to his daughters about a new–strange–girl he had met in high school, "When your eyes met hers, she was looking deeper into you than you could ever see into her." And the story serves its purpose. [Sidenote from the author: "When I wrote this and shared, I had a dozen of my high school classmates comment or message via Facebook… 'Oh my god, you had me trying to figure out when this happened and why I didn't remember it! Then you let me off the hook… whew!'"

A 2,295-word short story; a post-apocalyptic tale–young girl's vignette–of a society debilitated by politics and devastated by an event that turned part of the population into inhuman creatures.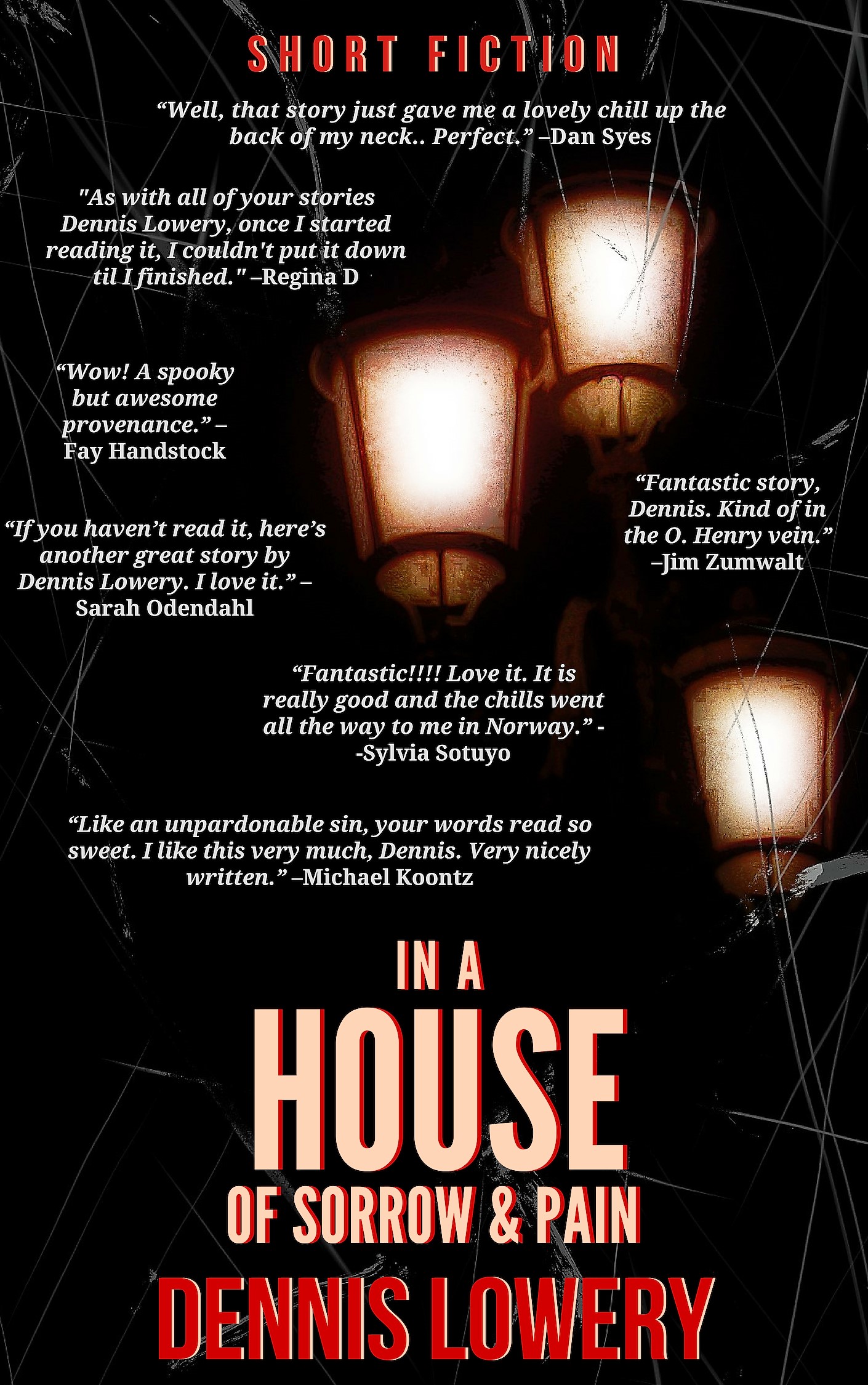 A young sailor leaves his ship during a port call in Italy and meets a girl. She's beautiful and seductive; far and away the most alluring woman he's ever met. And she wants him. But he's entered an old country. It is a land of ancient city-states, città morte… dead cities sprinkle the countryside. Once thriving and vital, now no one lives in them and the keening of the winds through the ruins are their only sounds. Even for towns and cities that live, in almost every one, there is a legend, sometimes distorted far from its origin, of a casa stregata… a haunted house. Some are deathly still, lonely cenotaphs, mere empty markers of some tragic past. Others contain souls that sleep awhile and awake… hungry.

ATTENTION SHOPPERS
New to town, Laurie was the consummate bargain hunter. Then she had one of those days that forever marks you. And nothing is ever the same again. Instead of a deal, she had found the undead. This little story is not an admonition against shopping. It's a cautionary tale—one to keep in mind—if you're somewhere new—unfamiliar—and someone or some sign tells you you'll find what you want… below. Be careful, very careful, shoppers always looking for the better deal. It's dangerous out there.

One of my short stories (2,529 words) for Halloween a few years ago, and it's still–simple as it is–one of my favorites. About a young woman, a dog and a bat.
As a young girl, Cindy used to have nightmares about things in her closet, monsters hiding that revealed themselves in the deep dark of night. She thought she'd grown out of that. What happens when they come back… for real?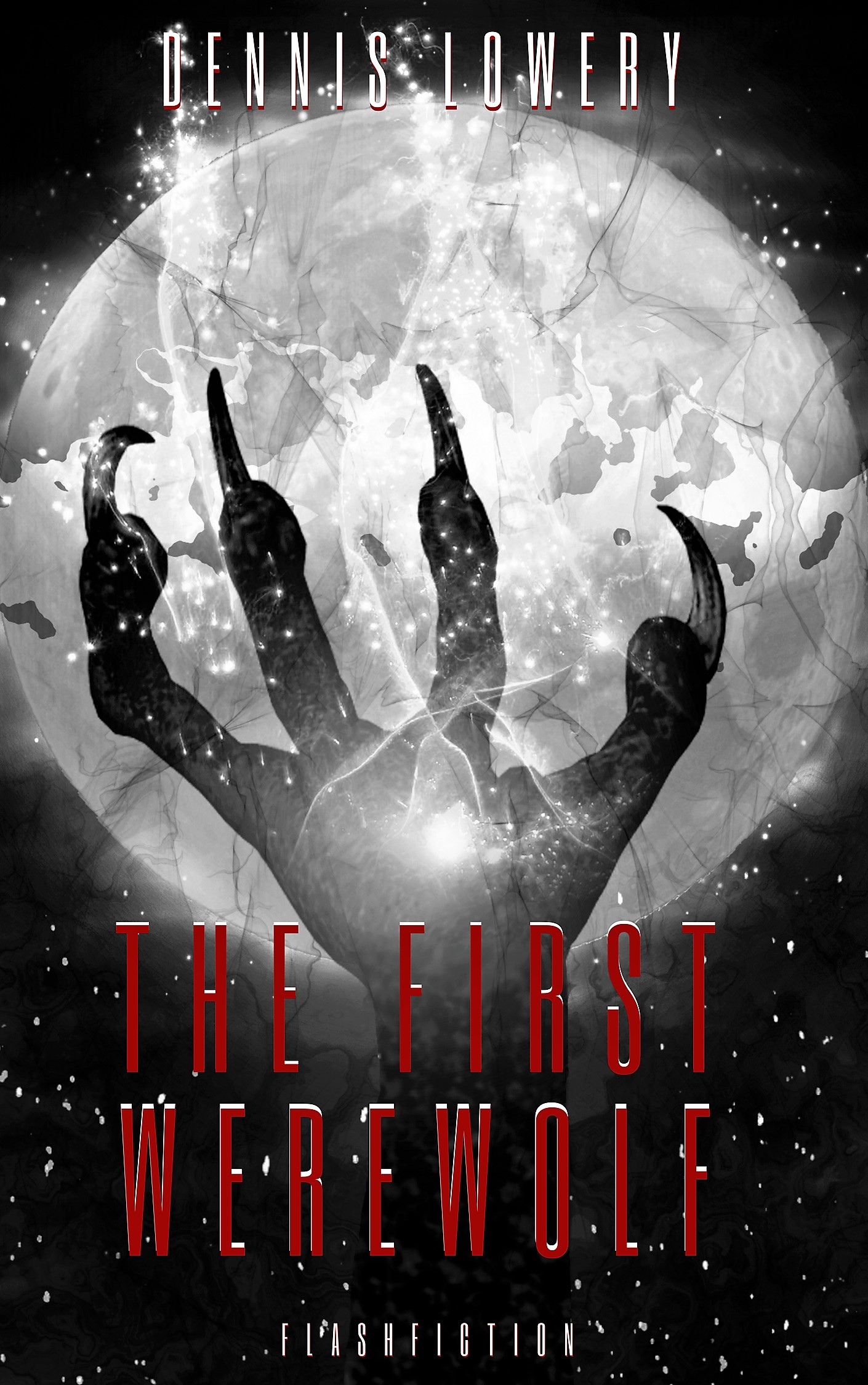 What if an alchemist's failed experiment created the first werewolf?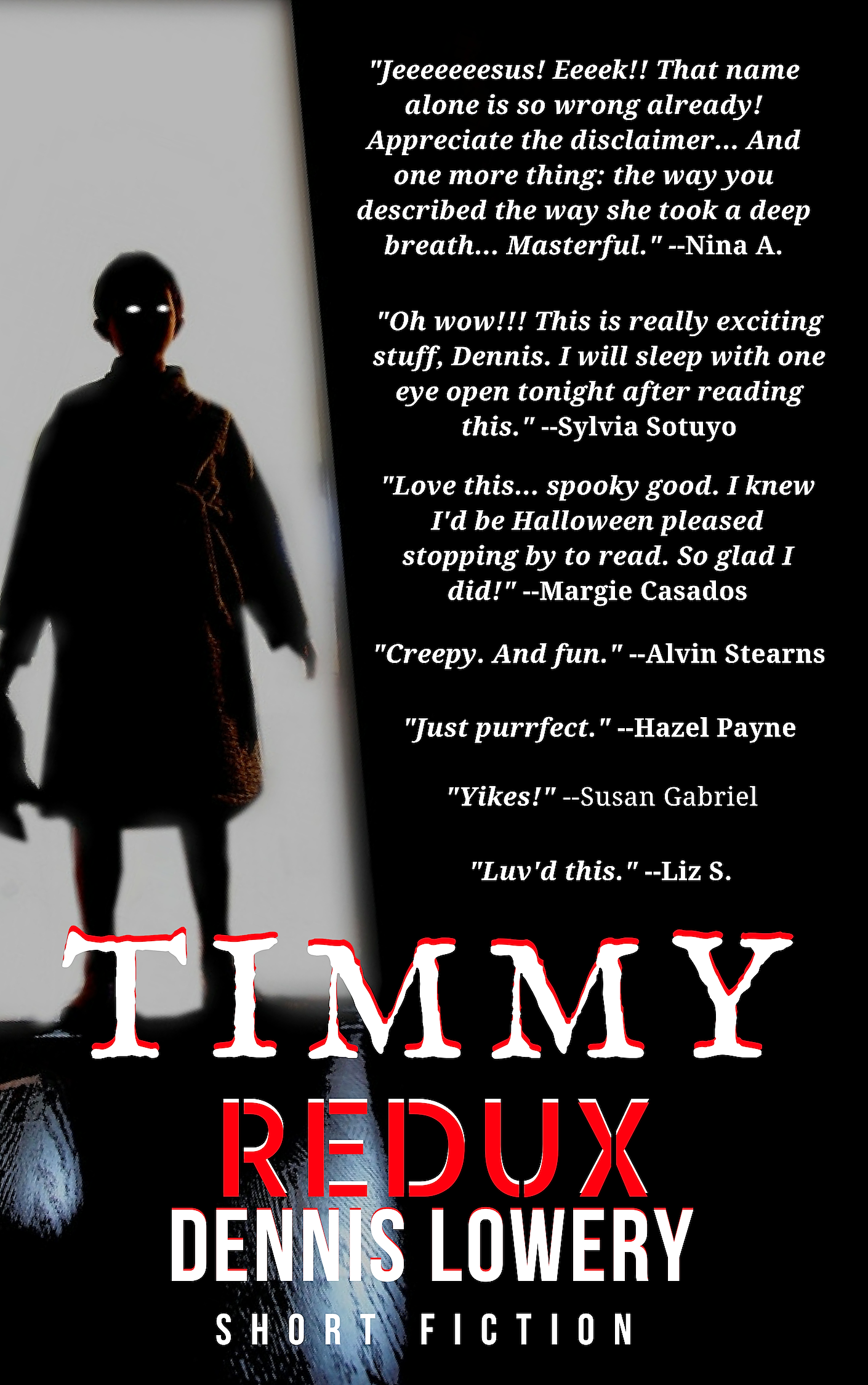 Realtors try to sell a house, only the house is occupied… and he won't leave. In 2015, Dennis Lowery saw the picture that's the base image of the cover to this story and while drinking coffee on the morning of October 29… as a little writing warm-up, he wrote the first part. A year later, in October 2016, he wrote the second part. October 2017, the third. Halloween 2018 added the 4th installment.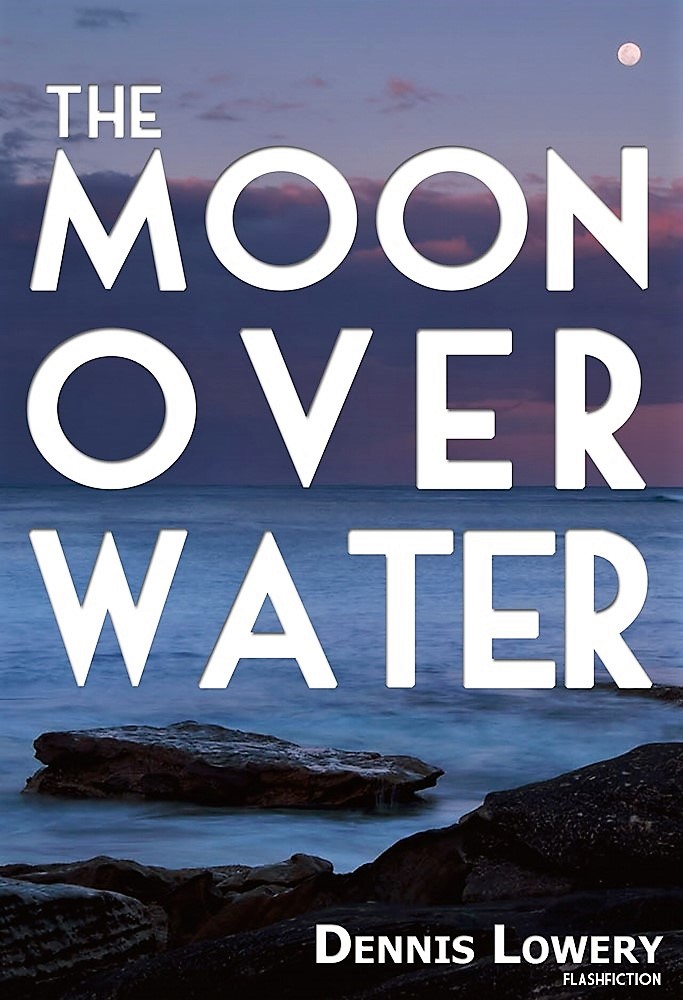 The Italian poet and novelist, Cesare Pavese wrote: "We do not remember days, we remember moments." This is one….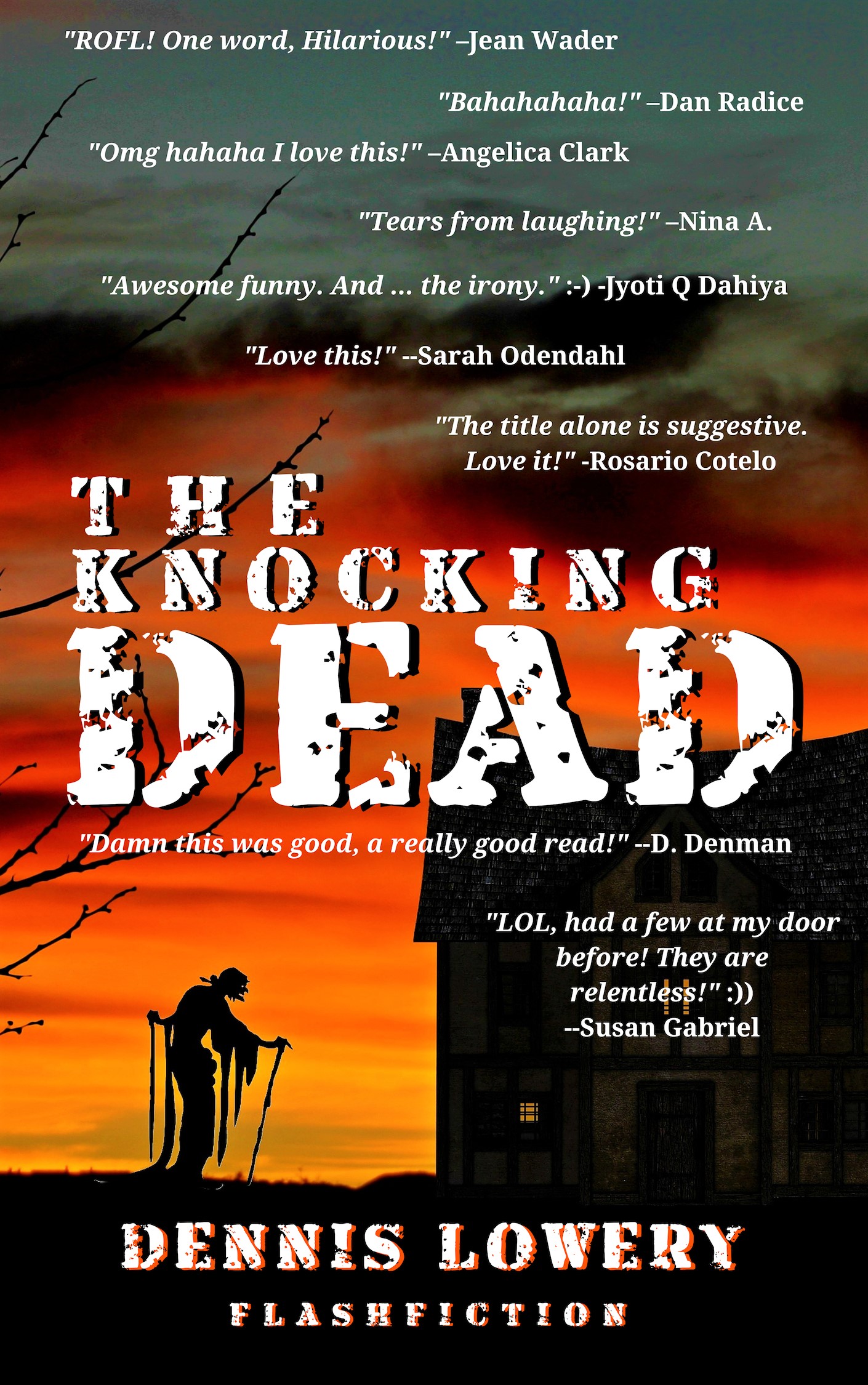 "Awesome funny. And … the irony." 🙂 -Jyoti Q Dahiya
"Excellent read! Uncannily true…" –B. Ambrose
"Tears from laughing!" –Nina A.
"Omg hahaha I love this!" –Angelica Clark
"Bahahahaha!" –Dan Radice